Currently Under Construction
Reconciliation in Australia and East Timor
Mark Green |  13 February 2013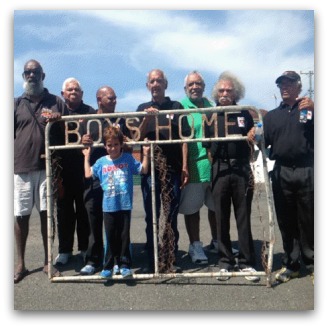 I
Pictured: KBH Gate Handover Ceremony, Kempsey, 27 September 2012.
Back: Ian Lowe ('Crow'), Uncle Vince Wenberg, Willie Leslie, Manuel Ebsworth, Richard Campbell, Uncle Cec Bowden, Michael Welsh. Front: Victor Ebsworth (Son of Manuel Ebsworth).
I was in Dili, Timor-Leste on Apology Day, 13 February 2008. I listened on the radio to the Apology offered by Kevin Rudd. Tears welled in my eyes.
The previous year, I had arrived in Dili to take up my post as Country Director of Caritas Australia's aid and development program in Timor-Leste. Early on I received an uncomfortable message from a very angry young man. 'What are you doing here, Malai? Have you come to make us like your Aboriginal people?'
I had no response for that young man. He and many of his compatriots were frustrated and hungry, and faced the prospect of perpetual unemployment. Their new country was again embroiled in conflict. The fabric of hope that bought these young Timorese together as a nation was, like many hearts at that time, broken.
I was representative of a country that was working for reconciliation. I was representative of an organisation that means compassion. Or so I thought.
In the space of a couple of sentences, a young man had challenged all of this. How could I be an ambassador of reconciliation and hope, coming from a nation that had not been big enough or aware enough to begin to seek reconciliation with its own First Peoples?
We could not say sorry until 13 February 2008.
'To the mothers and the fathers, the brothers and the sisters, for the breaking up of families and communities, we say sorry.' I wept as Kevin Rudd spoke.
Last Monday, I had tears in my eyes again — twice. In the late afternoon I read a report from our partner, Kinchela Boys Home Aboriginal Corporation (KBHAC), a a group of survivors from the notorious Kinchela Boys Home (KBH). I was looking at the photograph posted above. A tear fell onto my keyboard.
These are Kinchela men, Stolen Generations men, with Victor, representing the next generation, and the missing gate, now found, from their once oppressive home.
Why the tears? I looked again.
The gate is broken, off its hinges, separated from the fence which had once supported it. It is weathered, torn, bent. This gate hasn't been cared for.
Once the gate was strong; once it had the power to keep boys imprisoned, broken and beaten down. Now it has more in common with the boys grown into men than with their persecutors. An oppressive gate, broken, has become the gate of repossession, of restoration, of reconnection, of reconciliation — a Lenten gate.
Up to 600 boys were incarcerated at Kinchela between 1924 and 1970. One man, 'John', told a little of the story to the National Inquiry into the Separation of Aboriginal and Torres Strait Islander Children from Their Families:
This is where we learnt we weren't White. First of all they took you in through these iron gates and took our little ports (suitcases) off us. Stick it in the fire with your little Bible inside. They then took us around to a room and shaved our hair off.
They gave you your clothes and stamped a number on them. They never called you by your name, they called you by your number. That number was stamped on everything.
If we answered an attendant back we were sent 'up the line'. I don't know if you can imagine, 79 boys punching the hell out of you, just knuckling you, even your brother, your cousin. They had to, if they didn't do it, they were sent up the line. When the boys who had broken ribs or broken noses, they'd have to pick you up and carry you right through to the last bloke. Now that didn't happen once, it happened every day.
Kinchela was a place where they thought you were animals. You know it was like a place where they go around and kick us like a dog. It was just like a prison … Even today they have our file number so we were still prisoners you know and we'll always be prisoners while our files are in archives.
At lunchtime on the same Monday, Caritas Australia launched Project Compassion 2013 at Parliament House NSW, the very place where the policies were conceived to establish places like Kinchela Boys Home and to rip children from their families.
During the lunch, I heard the call of Pope Benedict XVI, which is the theme of this year's Project Compassion: 'We work towards a brighter and more humane world so as to open doors into the future.' By midnight, this same man had announced he would resign. Tears flowed again as I witnessed the story unfold. An old man's truthful self-reflection before God has opened doors into a brighter future for the Church.
A dispossessed young man in Timor-Leste, a deposed prime minister, six men from Kinchela Boys Home, one of their children and an 85-year-old pontiff, whose health is failing, has each moved me deeply. These people and their stories all seemed so unconnected until they came together for me at the beginning of this Lent.
They are ambassadors of our reconciliation with God and with one another.

Mark Green is a Group Leader with Caritas Australia's First Australians Program. 
Through Project Compassion, Caritas Australia accompanies KBHAC in a program to address the negative legacies KBH left on its former inmates and their families.

Image: Mark Green The East Timor director of Caritas, the Catholic Development Agency, arriving at Oecussi airport.
As a part of the Catholic Church, Caritas Internationalis reflects the social mission of the Church and the following core values:
Dignity: We see the poor as dignified human beings, not hopeless objects of pity, and we work with them to build a better future for themselves.
Justice: We believe you cannot make a gift of something a person should already have by right. We challenge economic, social, political and cultural structures opposed to a just society.
Solidarity: We work to enhance solidarity with the poor, seeing the world through their eyes, and recognising the interdependence of humanity.
Stewardship: We believe the planet and all its resources are entrusted to humankind and seek to act in an environmentally responsible way as true stewards of creation.
17/06/2007
Noel Debien speaks with Caritas's Mark Green for an update on aid and development work in East Timor as election fever begins in the world's newest independent state.
With the chief of Australia's Army foreshadowing another cut in Australian troop numbers in East Timor by the end of 2007, and prime-ministerial elections drawing closer for the young nation, Sundaynights speaks to the leader of one of the key Australian agencies assisting in the re-building and development of the nation.
Despite the cultural differences between the East Timorese and our own country, Australians have embraced the cause of east Timor's well being and development. Caritas Australia works closely with the Timorese agencies: Caritas Dili and Caritas Baucau – specifically aiming to strengthen the local agencies and build their self-sufficiency.
With a regional spend just under a million Australian dollars annually, Caritas focusses its work in four main areas:
– the Human Rights, Law and Justice programme
– the Oecussi Integrated Community development programme
– the Partnership programme and
– specific Program Management
Accross these programmes, Caritas aims to address persistent issues including domestic violence in a nation where up to 250,000 people lost their lives after the Indonesian invasion, subjugation and eventual withdrawal, as well rebuilding civil institutions, raising educational standards and strengthening economic life in a nation where youth unemployment is up to 50%.
Producer: Noel Debien, Dan Driscoll